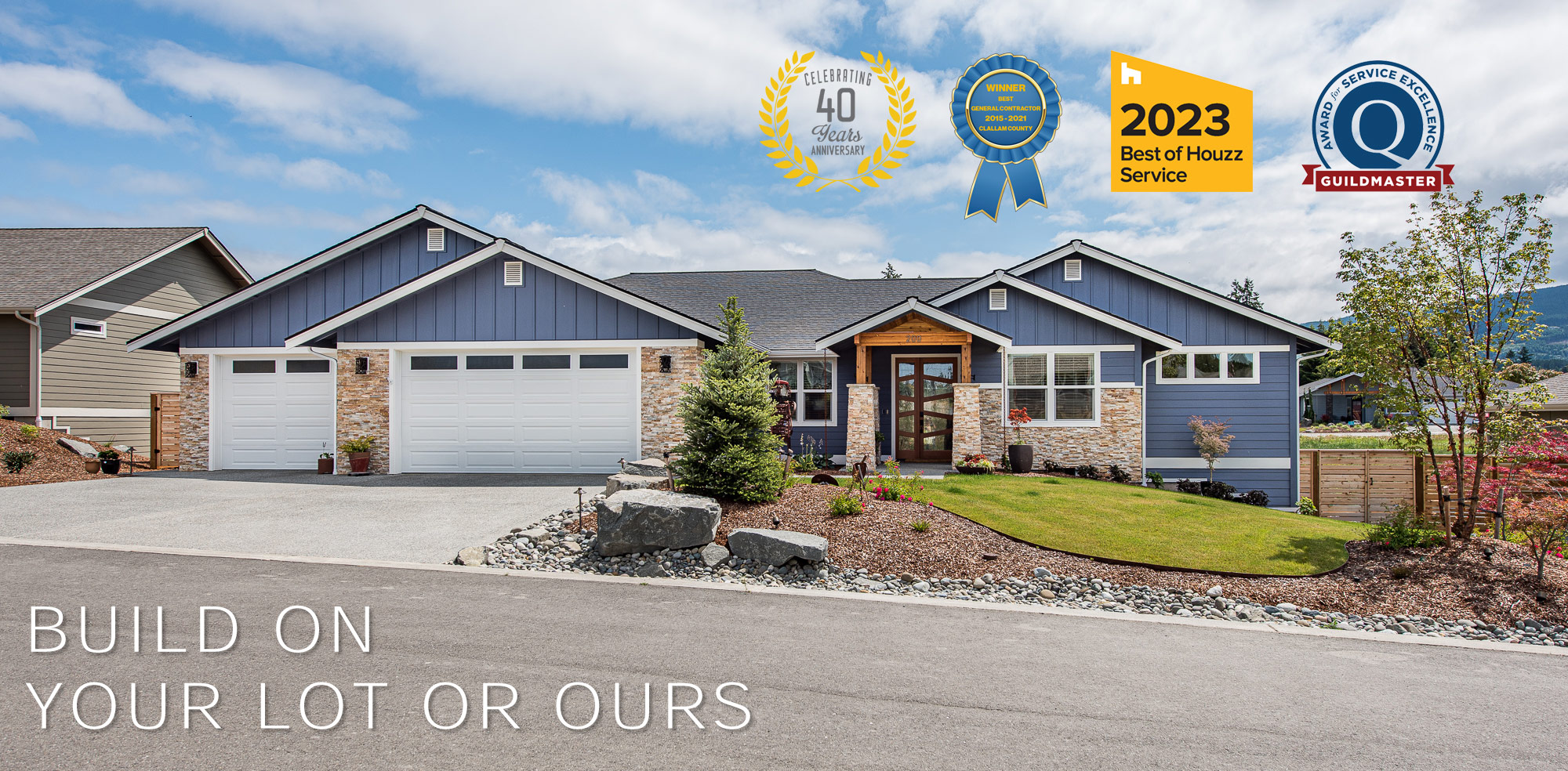 Sequim Home Builder Serving the Olympic Peninsula
Anderson Homes has been building dreams just like yours since 1981. Over 700 of them. It is our practice to build your dream as if it were our own—leveraging our purchasing power by negotiating better prices for materials and services, involving you at the center of all decisions to the extent you want to be involved, and ensuring your home is built for your vision, lifestyle and budget. It is our uncompromising integrity and quality that have earned us the highest satisfaction rate in the County-validated by being voted best general contractor seven years in a row. But don't let us tell you. See what our customers say here.
Planning a trip to the Olympic Peninsula? We invite you for a tour of our model homes and select build sites in the Sequim area. This is a great opportunity to view our standard features and build quality firsthand.
Not ready to make the trip quite yet? Take a virtual tour of our Mt. Mystery floor plan here and the Westwind floor plan here.
DESIGN-BUILD CONTRACTOR
SERVING SEQUIM, PORT ANGELES & PORT TOWNSEND
MORE THAN A BUILDER — A NEIGHBOR
Anderson Homes has built over 700 homes throughout the Olympic Peninsula. As the areas most-trusted custom home builder, our uncompromising integrity and quality have earned us the highest satisfaction rating in the county. Our craftsmanship, value, and service have helped us become one of Puget Sound's most trusted builders; our reputation and commitment to the community have made us a neighbor.
"Anderson Homes was, without a doubt, the best building experience I have ever had. This home in Cedar Ridge is the 4th home I have built and it was effortless. The communications through the design phase and the exceptional efforts put forth by the superintendent made this almost enjoyable!"
"Anytime anyone would like to discuss the process and expectations of building a new home with Anderson, please contact us. It has been a pleasure working with them. We had absolutely no issues through all of it and none after we received the keys. We are very fortunate to have found such a quality builder that follows through and delivers."
"The entire process of building a new home was as stress free as I have ever experienced. The quality of the build is superior! This was my fifth build and it was the best build."

Cedar Ridge Sales Office
80 Murray Court, Sequim
Willow Creek Manor Model Home
401 Broadmoor Street, Sequim
Sales & Marketing: 360-452-4641
Administrative Office
990 East Washington Street
Suite E107
Sequim, WA 98382
Administrative Office: 360-452-1232